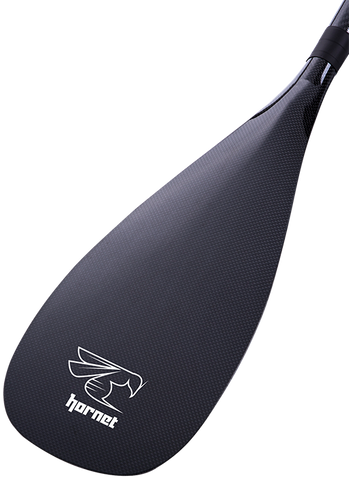 Black Carbon Fiber Standup Paddleboard All-Around Paddle by Hornet Watersports
Lightweight Yet Sturdy |

Easy to transport, easy to grip for journeys of all lengths, but sturdy enough to stand up to the strongest rapids.
Adjustable Shaft |

Paddleboard paddles should be comfortable for you to use. Customize this SUP paddleboard to your personal preferences by adjusting it to anywhere from 71" to 91". 
Ergonomic Grip |

Stay comfortable throughout your day on the water with the carbon fiber ergonomic palm grip.
Floatable |

Did your paddle get knocked out of your hands on a fast downwind? This paddleboard paddle will float its way back to you.
1-Year Warranty |

We stand behind this SUP paddle with a 1-year product warranty, so you can have confidence while you're standing on your paddleboard that it was built to last.
The Perfect Paddleboarding Paddle for Your Next Adventure.
This standup paddleboard paddle looks and feels great nestled into your hands for leisurely trips on calm waters or adrenaline pumping excursions on downwinds alike.
Made from durable, yet lightweight carbon fiber, this Hornet Watersports SUP paddleboard paddle is the perfect companion for water enthusiasts of all skill levels. But weight isn't the only advantage. Its 2-piece design makes it easy to adjust it to fit your body type and paddling preference.
2-Piece adjustable paddle length: 180 cm (71") to 230 cm (91")
3-Piece adjustable paddle length: 175 cm (69") to 228 cm (90")
Adjustable shaft material: 70% Carbon Fiber, 30% Fiberglass
When you pull out your new Hornet Watersports SUP paddleboard paddle from your bag, the first thing you'll notice is how comfortable it is to hold. The handle is made from carbon fiber ergo palm grip, which means you won't suffer from numb or tingling thumbs throughout your journey along the water. Stay out as long as you want without discomfort in your hands or wrist.
Handle: Carbon Fiber Ergo Palm Grip


The next thing you'll notice as you grip your new paddleboard paddle in your hands and start adjusting it to your height and preference is how lightweight it is. This carbon fiber paddleboard paddle is designed to stand up to the strongest rapids while staying lightweight and comfortable in your hands and arms.
Blade Weight: 200 g (7.05 oz)
Blade Length: 47 cm (18.5")
Blade Width: 18 cm (7.09")
Blade Surface: Glossy, 542 cm2 (842")
Blade Material: Carbon Fiber
Order yours before your next trip on the water.
Break Records. Not the Bank.
If you're ready to up your paddleboarding game while breaking a few of your personal records, this is the SUP paddleboard for you. It is designed with athletes of all skill levels in mind. Buy it for an affordable price. Adjust it to your personal paddleboarding preferences. And then feel the rush while you indulge in adventure after adventure on the water.