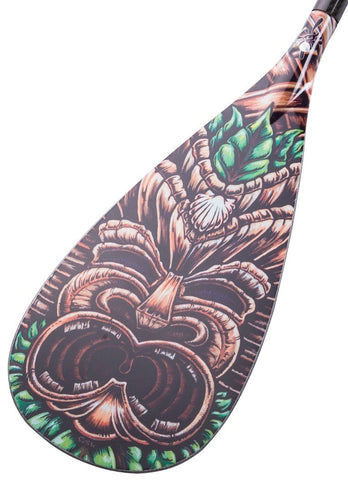 Tiki A3 Rubber Edge SUP Paddle with Design on Both Sides by Drew Brophy - 95 Square Inch Blade
DREW BROPHY ARTIST PADDLE SERIES
The Tiki SUP paddle from Hornet Watersports is part of the latest collection of our Artist Series by Drew Brophy. 
Combining Drew Brophy's amazing art work with Hornet's carbon printing technology has created this amazing new collection. 
PADDLE SPECS
Blade Material: Carbon Fiber
Blade Graphic: Inside the Blade with Design on Both Sides
Blade Surface: Glossy
Fixed Length Shaft Material: 100% Carbon Fiber
Adjustable Shaft Material: 70% Carbon Fiber, 30% Fiberglass
Handle: Carbon Fiber Ergo Palm Grip
Blade Length: 47 cm (18.5″)
Blade Width: 20 cm (7.8″)
Blade Weight: 220 g (7.76oz)
Blade Surface: 613 cm2 (952")
Fixed Paddle Length: Up to 215cm (85")
2 Piece Adjustable Paddle Length: 180cm (71") to 230cm (91")
3 Piece Adjustable Paddle Length (Travel): 175cm  (69")  to 228cm (90")
1 Year Product Warranty
 The final collection: 3 amazing artworks. 
ABOUT DREW BROPHY
Drew Brophy has been a professional artist for over 30 years.  He says of his profession, "It's my job to make things look cool."
A life-long surfer and traveler, Drew's career exploded in the late 1990's when he began painting surfboards using techniques he developed with water based paint pens.  That led into illustrating art for some of the top action sports companies at the time.  His work expanded to include fine art paintings for collectors worldwide.
An early adopter of standup paddle surfing,  Drew helped spread the sport through his adventure travels.  He and whitewater expert Seth Warren were the first to standup paddle the entire 225 miles of the Colorado River through the Grand Canyon.
Drew's love of surfing has led him down a path of studying weather, its effect on waves, and how the sun influences earth.  This has all led to a deep interest in physics and it has influenced his artwork.  As such, his distinctive art style has evolved to include sacred geometry in an effort to decode the knowledge that ancient civilizations left for us.
Drew wants to share with the world the message that everything is energy and we are all connected.  He strives to create art images that help people understand the true meaning of life; that life is meant to be enjoyed.
Visit Brophy's online gallery at http://store.drewbrophy.com/
MORE INFORMATION ABOUT HORNET SUP PADDLES
The Tiki Rubber Edge SUP Paddle is great for beginners right through to experienced paddlers. Available in 1, 2 or 3 piece design, there's a Hornet paddle for everyone… 
Whether you choose a fixed length or adjustable SUP Paddle, the handle and blade are exactly the same in every model.
The handle is made from carbon fiber and ergonomically designed to comfortably fit your hand.
The paddle blade, also carbon fiber, is precisely angled for optimum performance, with a surface area of 613 cm2 (952"). The stylish, glossy graphics are slick and eye-catching, turning heads wherever you SUP.  
Now let's consider the different options:
1 Piece Tiki Rubber Edge SUP Paddle
The 1 piece paddle comes in a fixed length and is ideal if you'll be the only person using it. Made from 100% carbon fiber, the paddle not only looks fantastic but is extremely strong and lightweight, too!
Choose from a range of fixed paddle lengths up to 215cm (85"), remembering to size your paddle 15-25cm (6-10") longer than your height. 
Adjustable Tiki Rubber Edge SUP Paddle
If more than one person will be using your SUP paddle, it's a great idea to opt for an adjustable length paddle. These paddles offer versatility without compromising on quality.
A useful ruler is incorporated on the inner shaft in both cm and inches, clearly showing the adjusted length. Remember your preferred measurement and you'll get paddle length perfection every time!
The 2 piece SUP Paddle is great for families or clubs. The shaft is split into two pieces which allow you to quickly and easily adjust the paddle length in increments from 180 cm (71") to 230 cm (91"). Once the length is set your paddle is extremely sturdy and ready for SUP!
The 3 piece SUP Paddle is designed to pack down small for paddlers who like to travel. As the name suggests, this paddle is split into 3 pieces: The shaft can be separated into two pieces and the blade is also removable. Using the same simple push-button system as the 2 piece paddle, you can adjust this paddle's length in increments from 175 cm (69") to 228 cm (90").
Whichever Hornet Watersports SUP paddle you choose, you'll enjoy years of paddleboarding fun while looking great on the water.