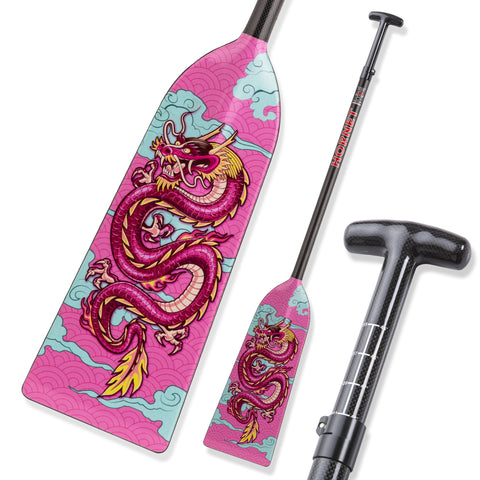 Pink Dragon STING G44 Adjustable Dragon Boat Paddle IDBF Approved
Your paddle is an extension of who you are.
The Hornet Pink Dragon paddle is a 2022 update of one of our best selling pink dragon designs.
Adjustable: 45" to 51" (115cm-130cm)
Fixed Length Available: 46.5" to 51" (118cm-130cm)
IDBF License: 3523
3 Year Product Warranty
The STING Dragon Boat paddle empowers you to perform at your best. IDBF approved, it is strong, lightweight and meets all the criteria for international competition.
There's more to our paddle blades than good looks! The inner core is made of PMI foam, adding serious strength. Meanwhile, the outer material is carbon fiber, known for its lightweight yet impressively strong properties. As if that wasn't enough, we've also reinforced the blade's edge with super-strong solid fiberglass.